For homes that are still using traditional locks that want to switch to more "smart" appliances, they will need to change the door structure of the house accordingly. But with Smart fingerprint lock Anytek, you can still take advantage of the old structure of the house thoroughly.
And the difference is that it will make it smarter and more convenient to use with fingerprint security technology - one of the most popular security solutions today not only on electronic devices like computers. , phones but also on doors or gates. So, Anytek's fingerprint lock has advantages and disadvantages, let's go over it!
Anytek Fingerprint Locks come in many sizes
Anytek is famous for its capacitive fingerprint sensor versions such as Anytek L1, Anytek P4 for bag and suitcase locks. Anytek P3, Anytek P22 Used for gate lock, door or vehicle or the recently released version Anytek L3 with more advanced features.
Compare the quality of Anytek Fingerprint Padlock and ordinary lock
The entire pedestal and structure of Anytek fingerprint locks are constructed of zinc alloy and covered with a matte black color for a firmer grip. Particularly, the Anytek L3 version is equipped with a plastic reinforced lid.
Thanks to the IP65 waterproof rating, the locks can work in all outdoor conditions. Practical tests including opening the sensor cover and charging port cover, pouring water in, it still works well after drying.
Note: Waterproof standards will vary from version to version - Anytek P3 waterproof IP54, Anytek P22 and Anytek L1 waterproof IP66
The side of the product has a Micro USB port for charging the fingerprint lock and a waterproof rubber button. The lock battery has a capacity of 300mAh for large locks and 80mAh for small locks.
With big locks, if spend continuously unlocking about 2500 times What time the battery can use up to 1 year or standby time of 2 years. It can be said to be very impressed with the use time if you are concerned about the lock running out of battery. When the lock is running low, the LED light on the fingerprint sensor will flash red quickly to signal that it's time to charge the lock.
Charging point of Anytek Fingerprint Lock
If unfortunately you still forget to charge the lock even though it has warned the battery before and cause it to run out of battery completely, you can give it a little electricity from the power bank or any source is possible. Open it again, because it takes a long time to run out of battery (almost a year) so this situation is also very rare.
If the like Smart door lock or other smart fingerprint locks will be connected to smart home systems or other electronic devices to be able to exchange information and data, Anytek fingerprint locks are equipped with independent smart chips Completely to encrypt private fingerprint data on the lock only. This means that you cannot use other electronic devices to communicate (via wifi, bluetooth, etc.). to hack it except to destroy it manually. Moreover, the USB port is equipped with a unique charging feature, so hacking the lock via usb intervention is impossible.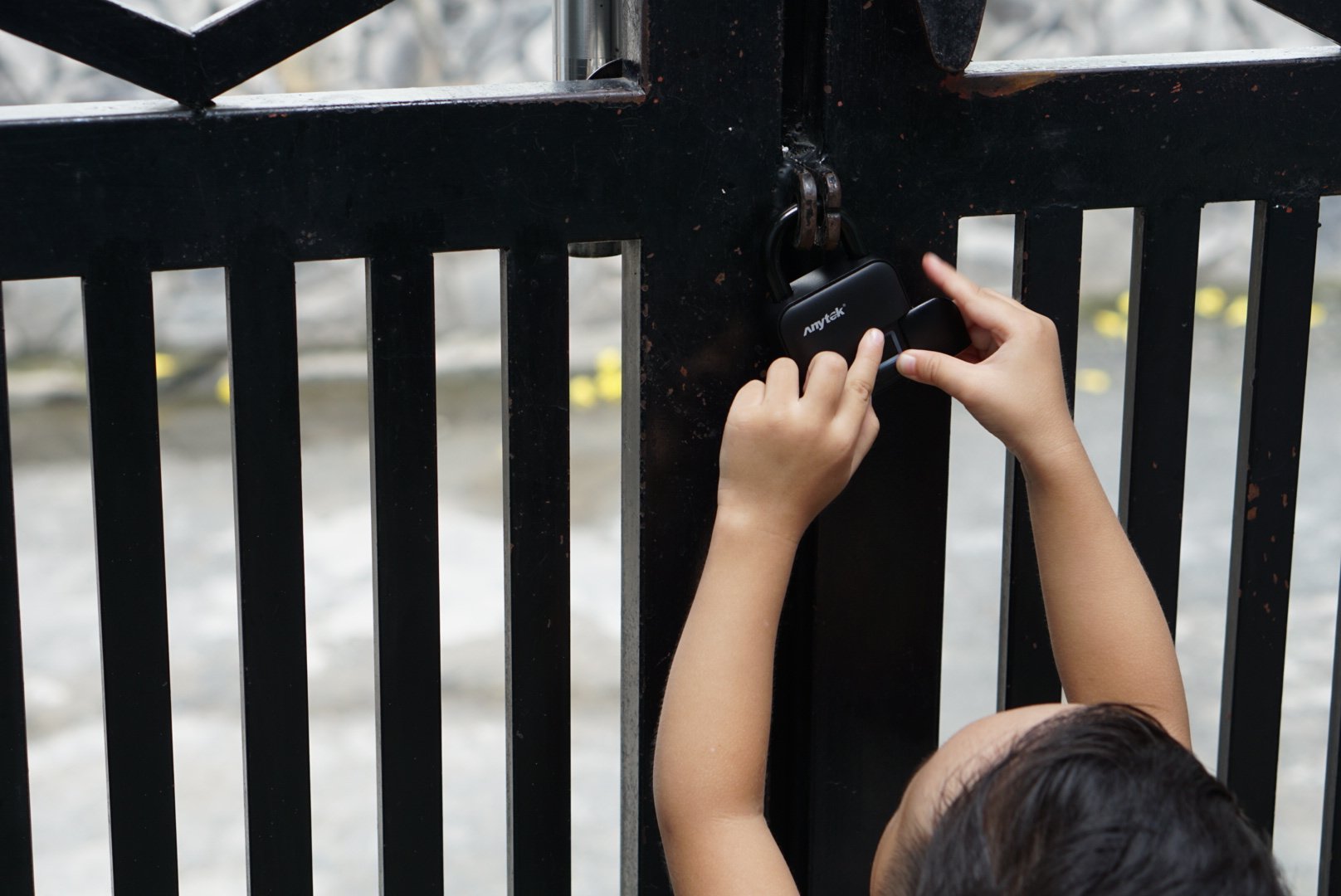 Anytek Fingerprint Pad For Easy Use With Children
Identifying and setting up fingerprints on Anytek locks is easy. It will recognize the fingerprint and open the lock in about 0.5 seconds. You can set up a total of 10 fingerprints with the Anytek L3 version. It can recognize 360 degrees fingerprint so you will easily manipulate the opening of the lock in all different directions.
Anytek fingerprint lock is very suitable when locking the gate, sometimes left and right inside the hand to reach the keys very tired, with a fingerprint lock only one operation to touch the sensor is the "flung" lock out quite convenient .
Anytek Fingerprint Padlock has many sizes so it is convenient to use all "terrain"
Note: Anytek Lock will support different number of fingerprints in each lock version - Anytek L3, Anytek P4 support up to 10 fingerprints, Anytek P3 and Anytek P22 app version supports 40 fingerprints and 10 fingerprints for regular version.
Advantages:
- Quick unlock in all directions quickly to avoid having to look up the key.
- Store up to 10 fingerprints and set up easily
- IP65 waterproof
- Good security due to working independently of other electronic devices
- Using time is quite long
Defect:
- The handle of the lock is a bit shallow, when pulled up and down, it is loose but still safe
- Durability, it takes time to verify
Products are on sale on the page Mihub.vn - Contact us for advice, quotation products Anytek Genuine Fingerprint best. If the article experiences, product reviews This Anytek fingerprint lock is useful, please rate 5 stars right below.