[ Smart Door Lock Using Fingerprint Which is good? ] If you are one of those people who doesn't like to carry house keys, then equipping yourself with a fingerprint sensor door lock is the best thing you can do right now. A good fingerprint lock not only allows you to open and close the door conveniently, but also provides additional security for your home.
Introducing The Best Smart Fingerprint Lock List Currently
All-in-one, all-in-one smart fingerprint lock made with superior technology that you will never regret buying. If you are new to this technology, finding the perfect will be difficult for you. That is why Mihub has compiled and shared a list of the 5 best fingerprint locks of the year. Browse through each of the mihub products listed below and then buy the smart door lock using the fingerprint sensor that's right for you.
1. Ardolf A20 Door Lock Security Biometric Fingerprint Door Lock

Ardolf A20 door lock is a smart door lock product that uses fingerprints quite effectively, equipped with flexible and sophisticated security systems, not only perfect for home security but also for the office. You will have many different methods to unlock the door, so make sure that opening and closing the door won't be a problem with this lock.
There is also a pass mode to ensure the door can be opened even by pressing the door handle. It's an incredible feature that helps guests get in and out.
2. Samsung Fingerprint Door Lock SHS-H700 Digital Door Lock

The smart door lock using the Samsung SHS-H700 fingerprint is a great door lock, comes in a sleek and stylish design. This fingerprint door lock would be a perfect option to improve your home decor. In addition to being beautiful, it has a solid body that allows it to last for a long time.
Customer support is always the strong point of Samsung brand, ready to help you in the most urgent situation. Surely you will love the durability of this fingerprint sensor lock.
3. Door Lock Ultraloq UL3 BT Fingerprint Sensor

Ultraloq UL3 is one of those Smart door lock It has the best fingerprint door sensor that comes with incredible features like anti-peek touch keyboard technology, advanced fingerprint recognition and intuitive OLED display.
In addition, you can check the diary via the Ultraloq application on your smartphone. You will have an 18-month warranty on electronic and mechanical components.
4. Smart Door Lock Xiaomi Mi Smart Door Essential (version without NFC)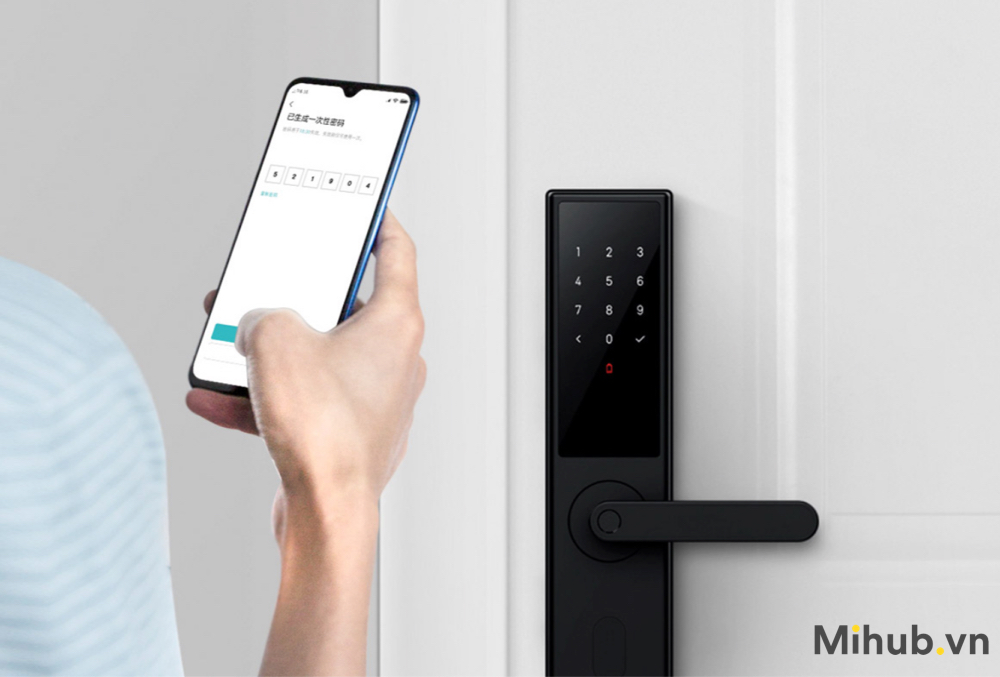 This is a typical smart door lock in the list from Xiaomi manufacturer. Same with the brother Xiaomi Mi Smart Door NFC , Smart Door Xiaomi Mi Smart Door Essential (NFC-free version) is equipped with the most advanced technology in an angled body, which is certainly only found in traditional high-end mechanical locks.
Xiaomi Mi Smart Door Essential (version without NFC) allows users to open doors without keys, fingerprints, passwords, smartphones, traditional locks. Moreover, the touch keyboard is equipped with password-proofing capabilities, even if someone is trying to see your code. In addition, you can view the log entered through Mi Home application.
Advantages:
Beautiful design with exquisite appearance

High security with high-class locking shaft

Many smart unlocking features

Alarm intrusion or break the key
Defect:
The lock is a little thick, so it is only suitable for large doors
5. Yale Door Lock YDM4109 (MortiseLock) Fingerprint Door Lock

At first glance, one of the most striking things about the Yale lock is its sleek appearance, in terms of design that goes far beyond some rivals. Yale incorporates multiple access methods, although it is advertised as a smart door lock using fingerprints, but is always accessible by different methods.
Yale YDM4109 fingerprint door lock has one-touch verification method, using continuous scanning to enhance your security while also increasing easy access. Progressive scanning will record your fingerprint more precisely, which is what other fingerprint door locks seem to lack.
Moreover, the lock is equipped with a high security key core that can be operated by up to 20 fingerprints. In addition, the YDM4109 mortise door lock has an automatic alarm which is triggered during a break-in or as a result of damage.
Choose the Smart Lock That Uses the Best Fingerprint!
Fingerprint door lock is an indispensable device in a modern apartment or office with security and convenience. But be aware that setting a smart door lock using a fingerprint does not mean that all security issues need not be concerned anymore, but you will have to follow a routine check of the fingerprint door lock of By yourself and neglecting to do these things can really reduce your security.
Take the time to find out which fingerprint lock will work best for your home or office, then see if the security features it has are enough to keep your assets safe! At the same time you can view other devices like Smart surveillance camera or other smart products, to be able to "design, build" for themselves smart home bring the most personal style.
Also you can see some more of the shared posts product reviews other Mihub Please:
Top 5 Smart Door Locks For Apartments
Xiaomi Mijia Push-Pull Smart Door Lock Premium