Xiaomi Mijia Smart Door Lock is evaluate how?
Review Detail of Smart Door Lock

Xiaomi Mijia Smart Door Lock
Introducing Xiaomi Mijia Smart Door Lock
In the past few years, smart homes have been very concerned by families. That is also why natural smart door locks have become a battleground for all manufacturers. This market is so attractive that most manufacturers have left the product open.
• Mi Home Application User Guide
• Anytek P4 Waterproof Fingerprint Lock
• Aqara 1080P IP Smart Camera with lens
There are many manufacturers of traditional home appliances such as Haier, Midea, Rongshida, Skyworth, TCL, Hisense, etc., as well as Dahua, Bosch, Hikvision, Chint, Four Seasons, etc. Xiaomi is one of the manufacturers that owns the IoT platform (Internetof Thing, also known by the pure Vietnamese name of the Internet of Things. Very popular for the smart home segment and is also expected in this product, the company finally launched its first smart door lock - Xiaomi Mijia smart door lock on December 5.
Within onethe introductory hour, Smart door lock Xiaomi Mijia Smart Door Lock has called for community capital of up to 10 million yuan, and in 7 hours and 40 minutes, 30,000 sets of lockssmart door This has been sold out. Such a sales boom is rare since the rise of smart door locks has had a huge impact on the industry.
One of the reasons for smart door locks Xiaomi Mijia Smart Door Lock Being outstanding in the market is not only because of the Xiaomi brand famous for quality products but also because of its very competitive price. - Xiaomi Mijia smart door lock has official price at 1299 yuan.Compared to the current models on the market, it costs around 2000 - 3000 yuan but only comes with a B-type lock core, and does not provide links with smart home appliances.
The whole body of Xiaomi Mijia Smart Door Lock is black.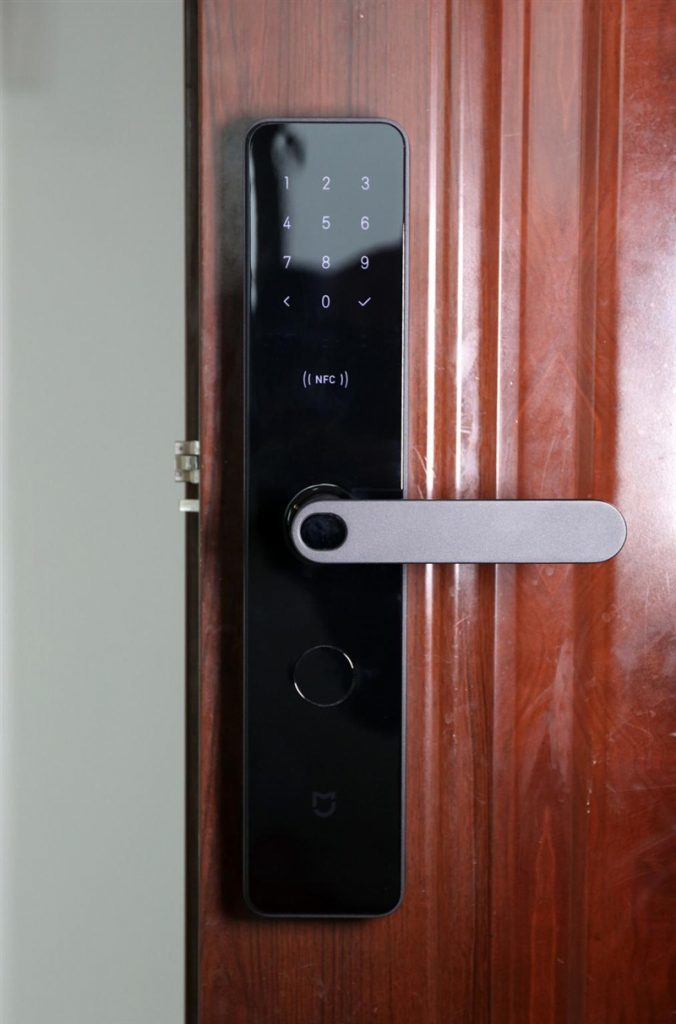 Xiaomi's eco-chain product manager once revealed that the industrial design of smart door locks Xiaomi Mijia Smart Door Lock , was created by a very talented and creative design team that has won numerous major design awards. We can take a look at some of the minimalistic design styles that are modern but also very similar to other smart home devices from this manufacturer.

The front of the smart door lock Xiaomi Mijia Smart Door Lock Made of IML acrylic explosion-proof tempered glass and the material's durability lockVery high compared to similar products.
Like the main door locks, the upper half of the face of the lock is a hidden row of number keys. When we enter the password, it will be subtly hidden, which not only protects and hides the password well, but also helps to harmonize the entire lock body.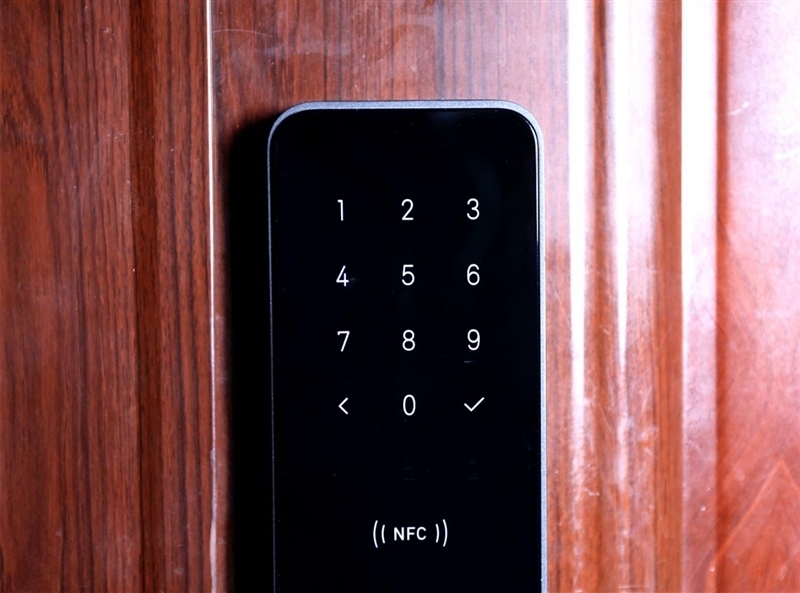 The keyboard area is touch-sensitive and has a backlight, integrated completely hidden in the control panel. The edge of the smart door lock panel Xiaomi Mijia Smart Door Lock reinforced metal helps protect the entire panel from strong impact forces. In spite of hereis a fairly affordable product, butproduct Still provides a classy look.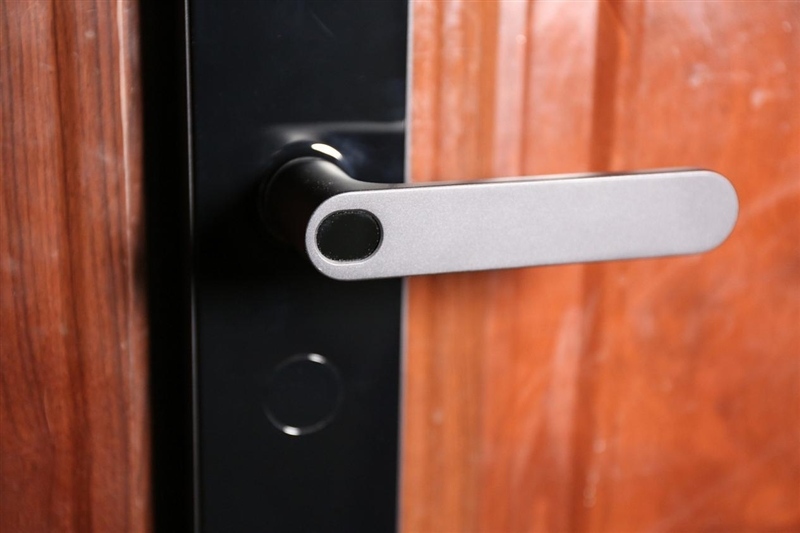 The fingerprint identification area is at the rotation axis of the handle. Unlike the circular groove used in most door locks, smart door locks Xiaomi Mijia Smart Door Lock adopt elliptical groove design, which is bigger than other conventional smart door locks on the market.

The door lock also uses sapphire with a Mohs hardness of 9, which is only available on high-end products.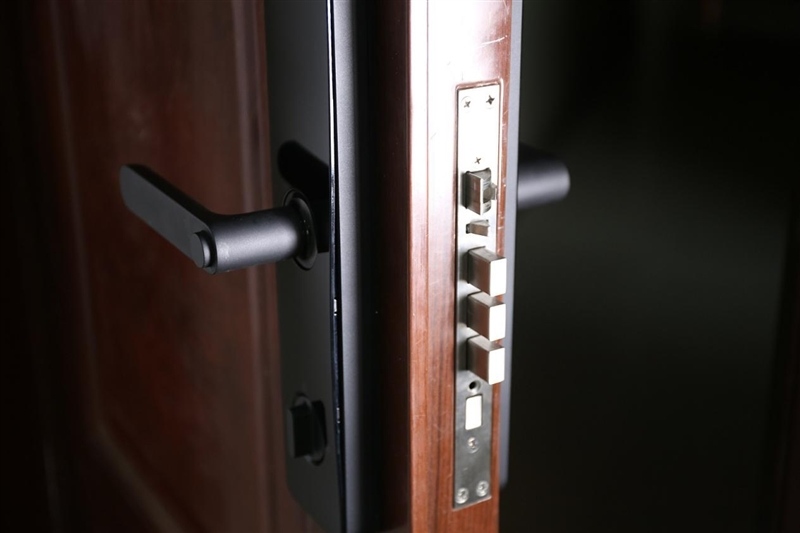 PNear the bottom of the lock is the USB emergency charging port and the speaker.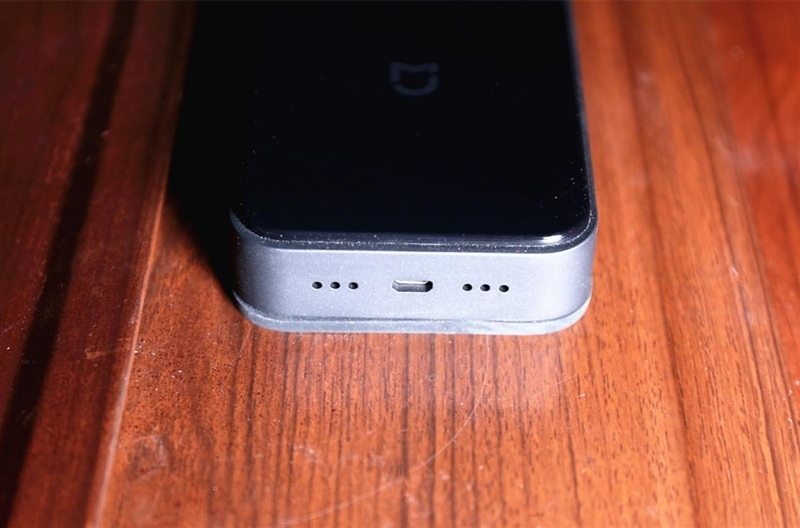 Besides, smart door lock Xiaomi Mijia Smart Door Lock Also comes with safety mechanical latch to resist break the key.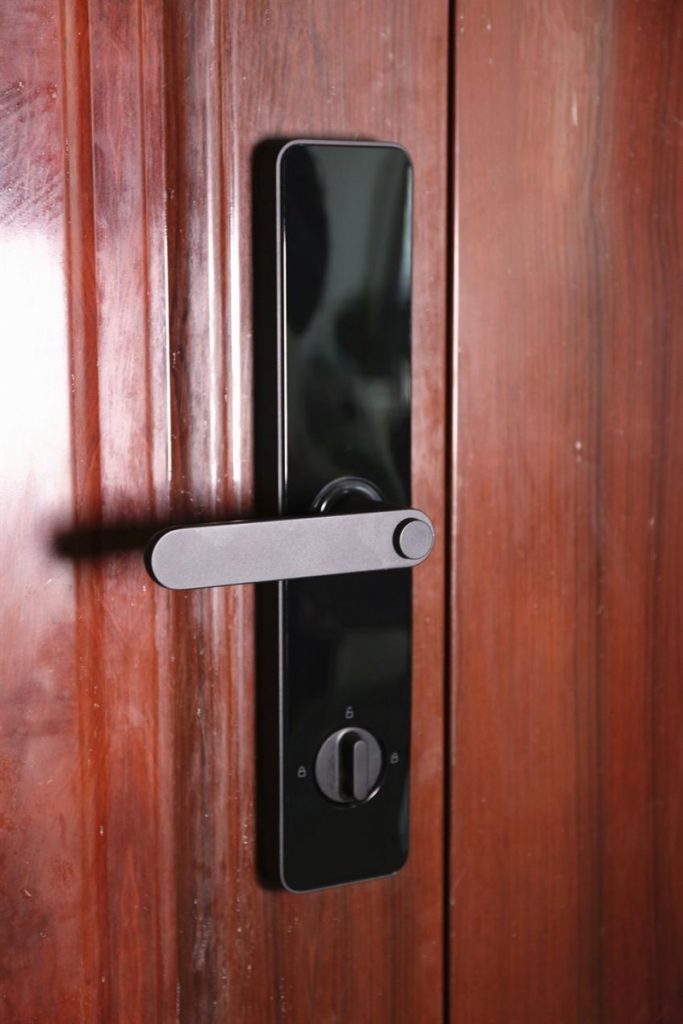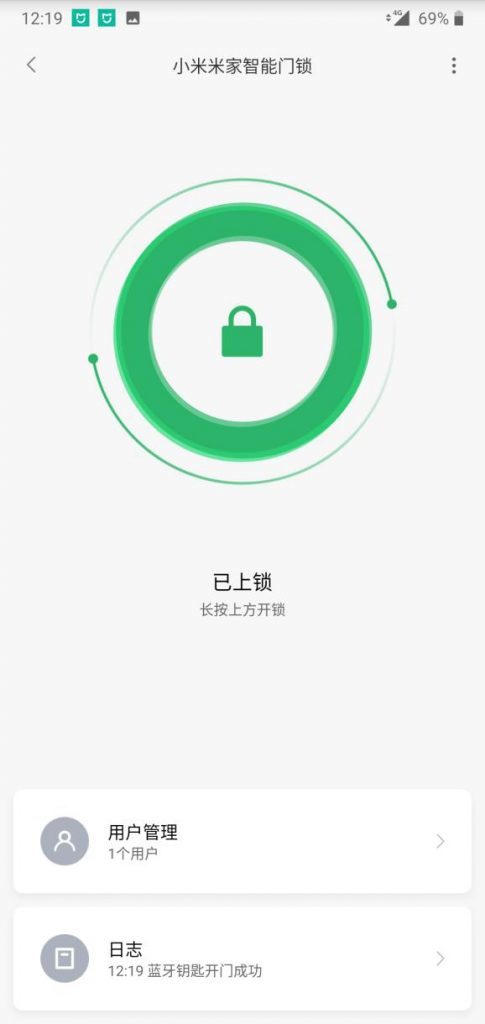 Like other smart home products from Xiaomi, smart door locks Xiaomi Mijia Smart Door Lock application support Mihome. As in the picture, you can find the mihome, in the app store, download and install it.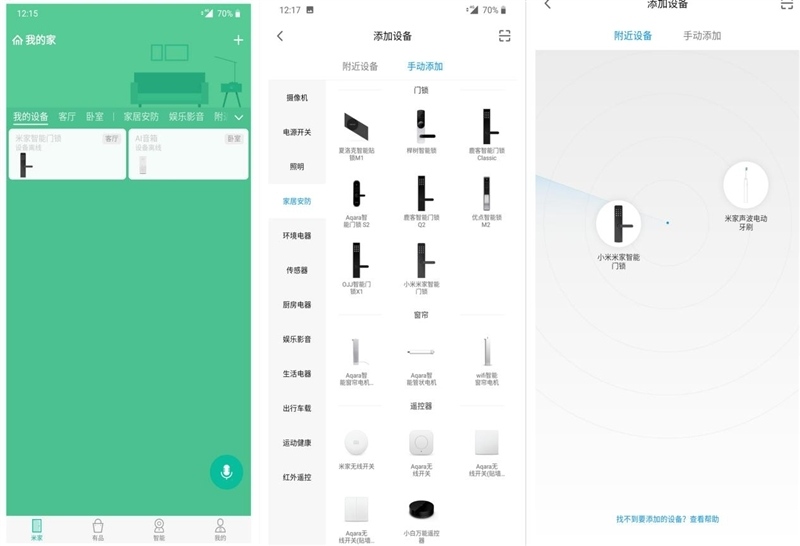 Mijia smart door lock has a fairly familiar setup and synchronization with other smart home products from xiaomi. Simply log in to your Xiaomi account, then follow the onscreen instructions - tap "AddDevice " Then click the icon "XiaomiHome Smart Door Lock " have been searched. Under the battery cover, press the button "Pair" as shown in the picture to complete the pairing. It should be noted that Bluetooth connectivity is already enabled.

To give customers the best experience with different situations that can occur in everyday life, Xiaomi Mijia Smart Door Lock offers a very flexible unlocking methods to choose from: Direct fingerprint unlocking, password unlocking, Bluetooth unlocking on smartphones, unlocking by Xiaomi phones via NFC communication.
Below we will see how each of these methods perform in actual use.
Biometric technology is not uncommon, appearing in many smart devices today. It includes fingerprints, iris and face recognition. All of these have managed to appear in all kinds of door lock products. However, the most common and most familiar to consumers is the unlock of fingerprint recognition.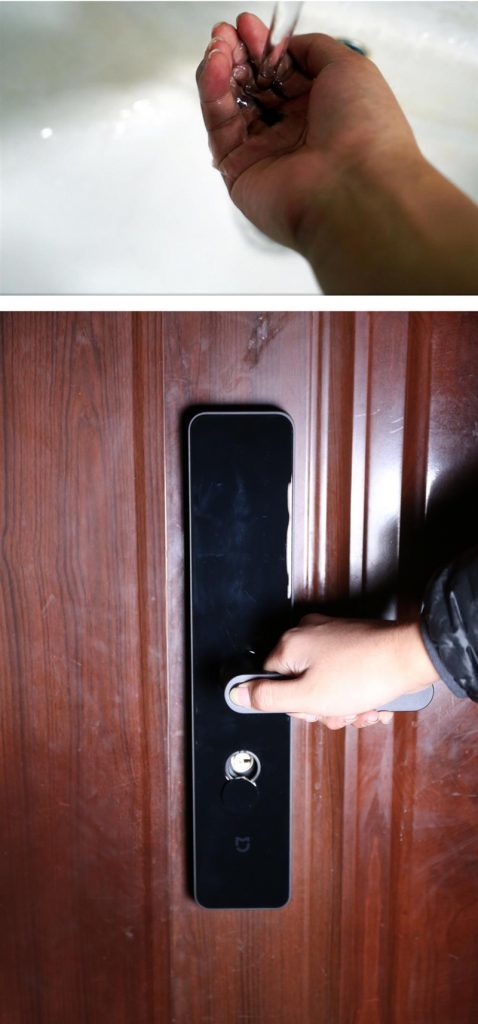 KUnfortunately, although a large number of smart door locks are equipped with fingerprint recognition, they do offer performance again very Low, even with many door lock products on the market today are equipped with old technology, with poor fingerprint security.
For Xiaomi Mijia Smart Door Lock, simply placing your hand lightly on the sensor surface will have a strip of colored lights appearing around the signal. The fingerprint reader of the xiaomi lock is classified as advanced Best Currently, recognizing fingerprints in various environmental situations with fast and accurate performance, Xiaomi Mijia smart door lock will open after a few seconds, even when opened with wet or dirty hands. butis not were a delay.
In the past, smart door locks using biometrics often had relatively high rejection rates. Users often need to verify fingerprints multiple times to pass and experience very poor. This is absolutely not happening in the experience of using Xiaomi Mijia Smart Door Lock products.
To achieve such an almost absolute accuracy, Xiaomi has used the Precise Biometrics algorithm(PB)of Sweden and support of a large library of fake fingerprints. Is one Leading fingerprint algorithm company, PB algorithm applied in domestic and foreign financial institutions as well as foreign bank cards.
Xiaomi Mijia Smart Door Lock supports Bluetooth phone unlocking, and also has Mijia security chip, which can encrypt all Bluetooth communication content. Therefore, users can feel secure because the whole unlocking process is safe and reliable.
When the phone is close to the door lock within Bluetooth data transmission range, it can be unlocked by touch.
Just like other traditional smart door locks, Xiaomi Mijia Smart Door Lock also supports the function of virtual passwords.
Add some random numbers in front of and behind the correct password to confuse strangers who might peek behind you. As long as the total number of passwords entered does not exceed 16 digits, it does not affect the normal unlocking, as shown in the image below.
The number entered in the image above is'123123,and lock the door open smoothly.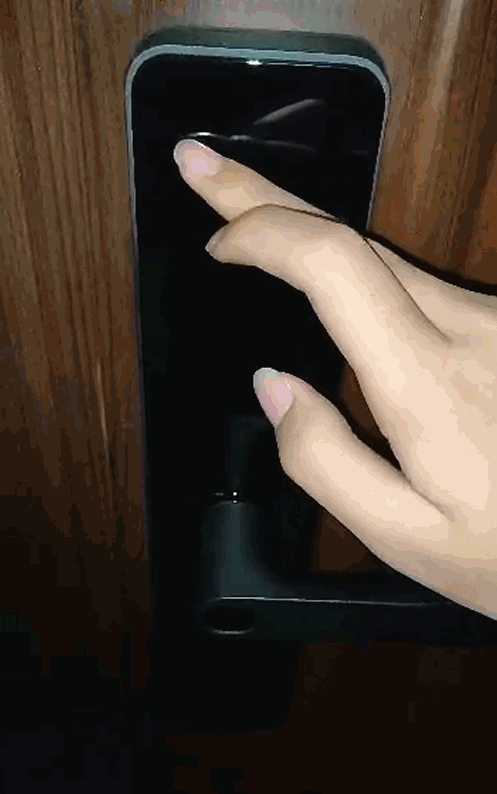 The number entered in the image above is '000123123 666. After clicking the unlock button, the door lock can still be opened normally. 

One of the points "worthrice bowl money "of the smart door lock is that people can forget the existence of the key in everyday life, but in extreme cases, they still need a traditional physical emergency. I suggest that you can put two emergency keys included in the product in the office or take them with you in case you need them.


It is worth mentioning that, unlike other products, manufacturers usually design the keyhole at the bottom of the lock, but for Xiaomi Mijia Smart Door Lock, it is located on the control panel and has Integrated hidden design. There is a small cap on the keyhole. Press down and slide the cover to see the keyhole.
As Xiaomi promoted the popularity of NFC functionality on its flagship models, the launch of the Xiaomi Mijia smart door lock made it even more useful. It is worth noting that Xiaomi's NFC unlocking function is unique to the Xiaomi Mijia Smart Door Lock, and there are no similar products on the market today.

During the experience, we used Xiaomi smartphones that support NFC to open 1 "Gatecard "in the application "MiWallet ", then touch the door lock with your phone and the lock will immediately respond to an unlock. According to Xiaomi, this key can support up to 25 NFC devices.
Smart door lock Xiaomi Mijia is equipped with many safety sensors:
The keylock detection sensor can identify the case of the keyhole being inserted abnormally continuously for a long time, an alarm message will be issued to alert the head of household.
Panel vibration detection sensor will send a warning message when it detects that the panel is vibrating.
In addition, the internal sensors with Xiaomi Mijia Smart Door Lock smart door locks detect various status updates of the door lock and can immediately leave a log record on the user's phone and and notify related messages. In particular, the sensor detects the latch status to remind the user when the latch is in an open state(unlock)
The mechanical safety button of Xiaomi Mijia Smart Door Lock can be used as a childproof anti-lock knob. It needs to be pressed hard to turn, this can prevent the child from locking the door by mistake while operating at home and cannot open the door.
Moreover, once it is in anti-lock mode, all normal users cannot unlock it from the door except the head of household and the emergency key. This can effectively prevent illegal intrusion from outside after the password is accidentally leaked.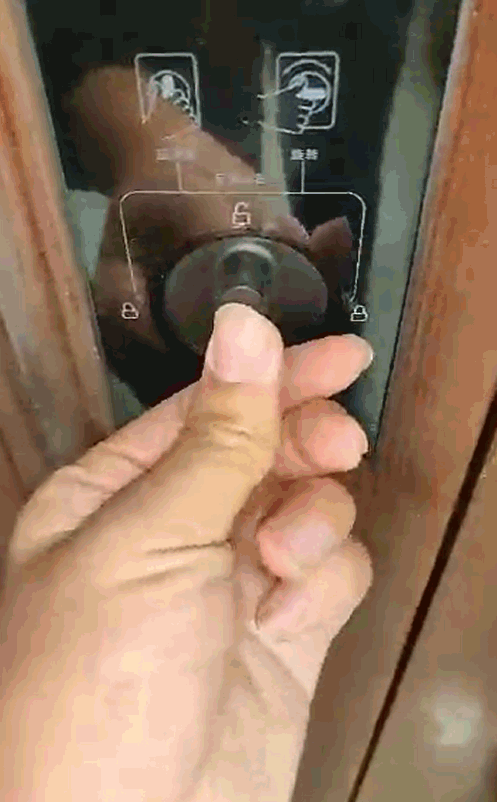 Electronic door lock Xiaomi Mijia smart supports temporary password setting on Mihome application. When a visitor comes, you can create a temporary password for the guest and you can customize the effective date and effective period.
BreastMiHome apps can not only link lock the door Xiaomi Mijia smart to check status, browse logs, remote settings as mentioned above but also access to realize comprehensive links with other smart home products via Bluetooth and WiFi. You can even customize the link context for Xiaomi Mijia smart door lock.
Most Important Element: Core Advanced Key Ferrule Class C
KSmart door chemistry Xiaomi Mijia Smart Door Lock There are so many attractive featuresdo you choose to buy, but we just want to focus on one outstanding advantagetBest. Lock Xiaomi Mijia smart door use core smart lock Ferrule CLass C really, bring you levelhighest security.
Do A set of mechanical safety latches is made on the back of the door, nEven if someone intentionally destroys the front panel to break in, it still has a complete mechanical lock structure, requiring a physical key to unlock it. In other words, we are give a solution Smart door lock the cheapest with those features high class.
In addition to the market offer a lot pattern lock support unlocking equal Fingerprint, password, NFC and Bluetooth signal from phone. NHung thanks for the equipment key core Ferrule C-Class, should be realistic  lock Smart door Xiaomi Mijia Smart Door Lock It is almost impossible to hack.